Picture this: you're on a hike or sitting on a patio with friends and you feel a stream of sweat roll down your chest or start to accumulate under your breasts, making you feel wet, itchy, and uncomfortable. Sound like you? The summer can be a sweaty time, especially for those of us with breasts, so picking the right bra is key to helping you feel cool and comfortable in the summer heat. Thankfully, lifestyle expert Amanda Muse has shared 7 of the best breathable bras that will help you keep boob sweat at bay this summer. If you're also experiencing sweat as a part of your menopausal symptoms, check out our article on products to help you manage hot flashes here.
Price: $59.00 
This breathable pullover bra from Knix is a great option if you hate underwires or hardware digging into your skin. With removable padding and a seamless, lightweight fabric, you can wear this bra under anything for any occasion from lounging to low-impact workouts. The nylon and spandex fabric helps wick away moisture and dries quickly, so you won't be wearing a sweaty bra all day.
Price: $44.00
This sexy mesh lace bra is made from light fabrics that allow for extra airflow, which helps sweat evaporate quickly. The underwire helps to support,  lift, and separate your breasts so they don't collect sweat. Available in different colours, this bra will definitely be the confidence boost you need to make you feel good this summer.
Price: $33.75
This sustainably-made, padding and hardware-free bra is great for those who are prioritizing comfort. The soft bamboo fabric is breathable and moisture-wicking, absorbing 3 to 4 times more sweat than cotton, and helps to regulate your body temperature. This bra is great for lounging or sleeping, or if you don't require much support, but this style is available with padding if you require extra support.
Price: $65.00
This bra is designed with spacer cups to provide you the coverage of a padded bra without the bulkiness of dense foam cups that trap heat and moisture. The spacer foam is designed with larger air pockets that make it breathable and more comfortable for heated conditions. This is a great breathable, t-shirt bra that has a soft cushion underwire that is more comfortable than traditional underwires. Available in a D-H cup.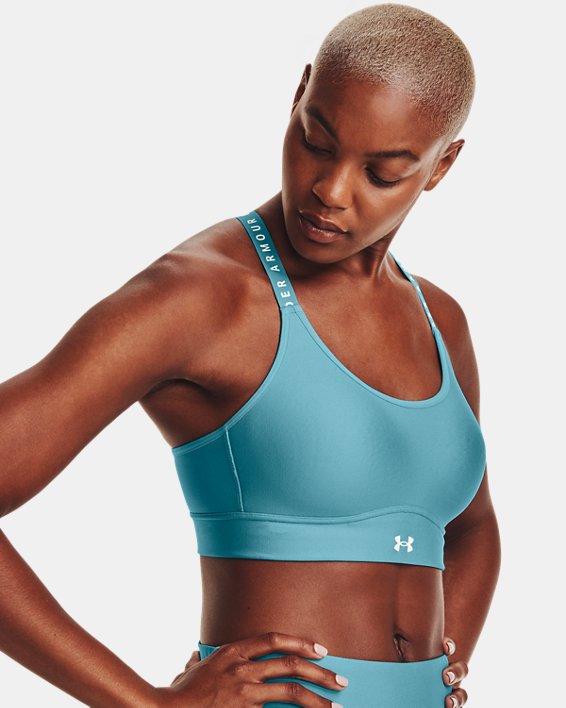 Price: $50.00
This sports bra is meant for medium-support activities like cycling, weight training, and boxing. The mesh panels are great for providing extra airflow and breathability, and the fabric wicks sweat and dries quickly. The adjustable straps allow for a custom fit and the hook and eye closure are easy to hook on and off, allowing for the most comfortable fit for your workout.
Price: $69.99
This sports bra is made of sweat-wicking materials that dry fast, so you won't have to endure your workout with a sweaty bra or sweat marks. This bra also includes mesh panels for added breathability and airflow. The breathable and lightweight built-in cups separate your boobs so that less sweat builds up for maximum comfort during your workout. 
Price: $34.99
If you experience intense boob sweat while at home, the Ta-Ta Towel is for you! Made of cotton and modal, it's great for absorbing sweat and feels soft and comfortable against your skin. The halter style wraps behind your neck and sits comfortably under your breasts to absorb sweat, and is available in different colours. Many women also love this product for breastfeeding comfortably.