Early morning wake-ups, the frantic packing of lunchboxes, running to the bus stop to greet friends… Sound familiar? It's almost time for students to head back to the classroom, and as a parent, guardian, or student yourself, it's key to ensure everyone is prepared for the big return. Back-to-school season can be stressful, but it doesn't have to be. We searched the internet for some must-have back-to-school products (that will *actually* last more than a year) to help students of all ages feel their best as the school year starts again.
Numerous sources have ranked these over-ear noise-cancelling headphones as one of the top pairs to buy among the best. Their noise-cancelling feature optimizes its noise-cancelling abilities to adapt to your external environment to provide the best listening experience possible. Bluetooth pairing capabilities make it seamless to connect to your smartphone, tablet, or laptop wherever you are. With up to 30 hours of listening time with noise-cancelling enabled, these will last from your morning commute to the gym to those late-night study sessions.
Make packing your lunch bag easier with a bento box! Bento boxes are easy to pack in your little one's backpack, eliminating the need for packing multiple food containers that kids might lose. These leak-proof containers are freezer and microwave-safe, with 4 compartments for snacks and lunch that will last your child all day.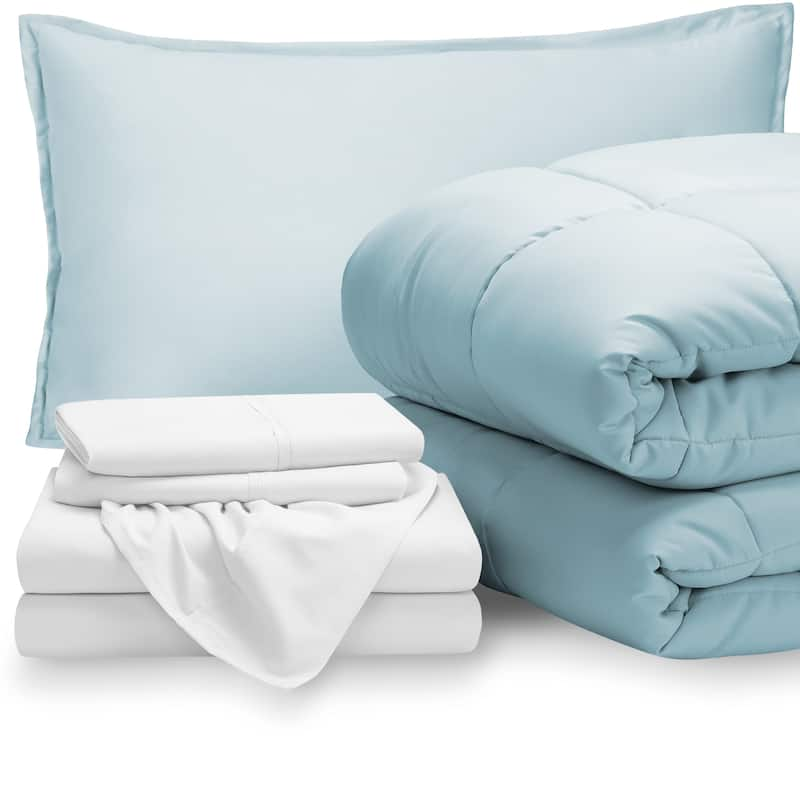 If you're moving into your dorm this week and still need bedding (we won't judge!), this Bed-in-a-Bag set has everything you need to sleep comfortably. Available in bed sizes from a Twin to a King, these sets include a comforter, flat sheet, fitted sheet, pillowcase, and pillow sham. The best part is that these sets come in 30 different colour combinations so that you can match your bedding to your dorm, no matter the theme!
If you buy a new lunch bag for your kids every year, it might be time to invest in one that won't fall apart. This expandable lunch box from L.L. Bean has room for lunch and snacks to last your kids a full day at school. The internal mesh pocket can hold an ice pack in place to keep food cool in addition to the insulating materials.
It might be worth considering investing in a backpack that will grow with you as a student. The Beis Backpack may be a little pricey, but this bag has room for everything high school and college-aged students need. With a padded laptop sleeve, 2 water bottle pockets, a front pouch, durable waterproof fabric, and padded straps, this backpack will last you through a full day of classes throughout your educational journey.
Students need to stay hydrated during the day to help with brain function, so using a filter bottle to drink the best water is only proper. The LARQ filtering water bottle is one of the best filtering bottles in the game, using Nano Zero filter technology to remove lead, heavy metals, chlorine, and particulates. The double-insulated interior helps to keep water cold for up to 24 hours, surviving the morning commute to after-school practice. 
We know our little ones might tend to forget their belongings at school or mix them up with a classmate's. That's why these personalized labels will be great to stick on your child's belongings, from their backpack to their indoor shoes, so they'll never get mixed up again. 
We all have those moments when we're taking notes or studying and accidentally highlight the wrong information. Luckily, these erasable highlighters(!) are great for staying on top of your studies, while being proactive of managing minor highlighting mistakes that might happen.
Protect your laptop with this stylish laptop sleeve! Its waterproof and non-scratch exterior will survive whatever you throw at it. The sleeve can also be used as a laptop stand to help you improve your posture and reduce neck strain by looking up at your laptop screen, instead of down.
These days, taking notes is all about using aesthetically pleasing colours and highlighters, so it's only fitting that you have a pencil case to store all of your stationery! Find what you need easily with multiple pencil compartments, pockets, and zippers to store everything you need to write the best notes in your class.