Flared pants are making comeback, and we're actually in love with it. Stylist Janielle McKoy is showing you how to rock them.
Vintage Flare Denim
Most trends never go out of style, they just evolve. And that is definitely the case with the high rise flare. This flare denim is tight at the waist and the thigh and starts to loosen from the knee. Paired with this great blazer that you can wear with the sleeves rolled up for a flash of glam thanks to Peyton's fun leopard lining. For Janielle's height and shape, a moderate flare like this works perfect. Anything wider would make her look shorter and not proportioned. If you're taller and have some curves at your hips and thighs, a wider flare even a bell bottom would be great on you.
Cropped Flare Denim
At first you might think this trend would look a bit weird, but it all depends on how you wear it.  The perfect cropped flare length hits right above the ankle. This look was supplied to Janielle by want.ca – a local boutique to support! Now, just like a regular flare pant, the cropped flare comes in different flare options. If its a light flare, this trend looks great with a chunkier heel or even a sneaker. If you are going for more of a wider cropped flare, I would go with more of a daintier heel or strap when the weather gets a bit warmer of course.
Cropped Flare Leather Pant
If you wanted something a bit more dressier then cropped denim, a cropped flare leather pant is a great option. This faux leather pant is also from want.ca and this pant hugs you in all the right places. This is a control legging flare from a brand called Commando and it feels great on and its super comfortable. Perhaps paired with this cashmere crew neck sweater with mesh detail.
Velvet Flare Pant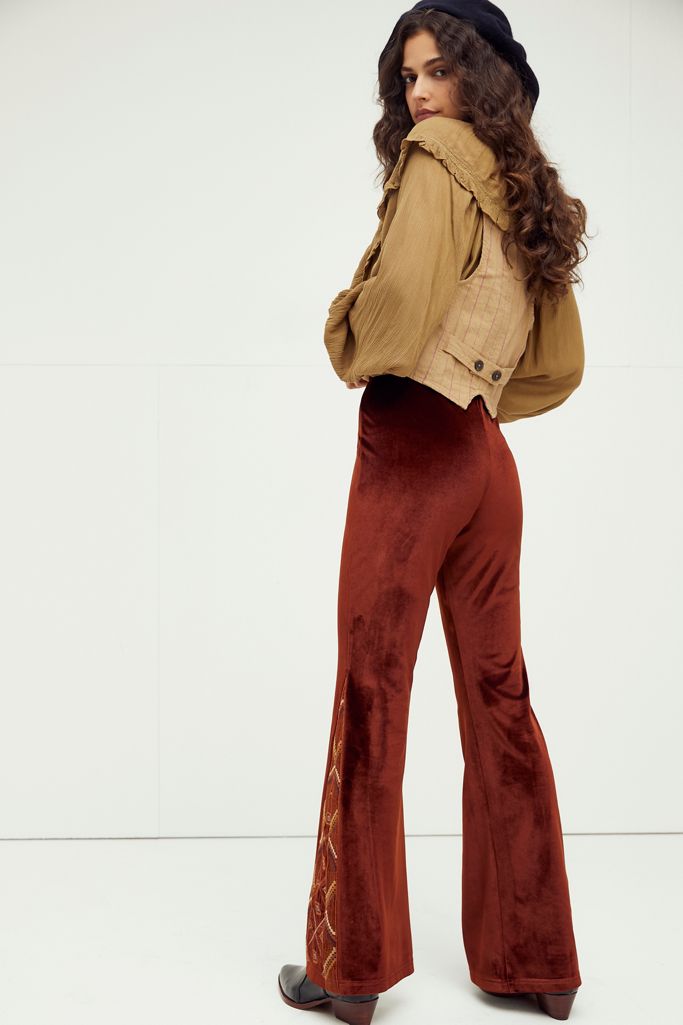 Who doesn't love velvet? And the velvet flare pant is huge this season. Brands like Free people has tons of velvet pants that gives you that boho chic look. Don't be afraid to experiment with different velvet colours as well. Pair your velvet flare with a fitted turtleneck or a flowy top.
Printed Flare Pant
While experimenting with colours, you can gradually move to flared prints as well. We love statement pieces and this flared Ankara pant from Precious Threads By Abiola is one of Janielle's personal favourites. This pant is more of a relaxed fit with a flare. Its not as tight at the thigh like the other pants because of its structure and material. This flare can be worn with a cute boot now or a wedge or scrappy heel in the spring/summer months. This red shoe is a cross between a bootie and a pump by dr. Liza available to purchase here.