Is your entire backyard in need of a spring makeover? We want to get excited about spending summer in our backyards, so we're here to show you how to take your backyard from drab to fab, guided by our expert, Monique Taylor Yee Shui! This style focuses on maximizing space for activities and entertaining guests.
Entertainment Area
First things first; any patio needs a place to sit. Opt for a set with a modern feel and clean lines. A neutral colour scheme is best, and you can add a pop of colour with pillows if you want! To add to the clean lines of the furniture, try to find a rug with a geometric pattern on it. Make sure that this area also has some sort of umbrella to protect from the rain and sun – you want to get the most out of your space!
If you're a fireside kind of person, getting a fire pit or fire table can be a great way to entertain guest, kids and yourself! Just make sure the design of the pit fits with the rest of the area. Lastly, you'll want to include a grill for those summer cookouts! There are lots of options for this, but we like pellet grills, which use wood pellets and electricity instead of gas. Plus, different types of pellets can give different flavours to your food, depending on the type of wood they're made of!
Monique's picks for this area: Hometrends Willow Springs Conversation Set, 7'6 ft. x 9'6 ft. Charcoal Indoor Outdoor Rug, Hometrends Decorative Toss Cushion, Hometrends 10 ft. Round Offset Shanghai Umbrella & Base, Fire Pit Table Powered by Gas, Traeger Ironwood 885 Pellet Grill TFB89BLFC.
Kid's Area
Making this a fun environment can be a great motivator to get your kids outside. Setting up a structure for your kids to hang out in, like a tent, can be great fun for them! Plus, it opens up the possibility of having a night under the stars! Another fun addition can be to add a projector and a camera background stand (or a white sheet, if you're thrifty). This lets you have outdoor movie nights at home, no drive-in needed!
Monique's picks for this area: Firefly! Outdoor Gear Sparkle the Unicorn Kid's Camping Tent, Firefly! Outdoor Gear Sparkle the Unicorn Kid's Sleeping Bag, Firefly! Outdoor Gear Finn the Shark Kid's Camping Tent, RCA 150″ Home Theater Projector, Mainstays Geometric Reversible Indoor Outdoor Rug
Accents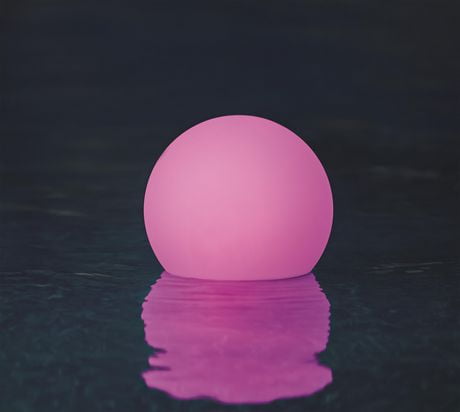 No backyard makeover would be complete without the accent pieces. For lighting, some kid-friendly lanterns sprinkled around can add a chic style to your outdoor oasis. Alternatively, some colour changing orbs can add a sense of whimsy to your environment. Planters are another good way to breath life into your backyard. Pick some foliage you like and use it to fill in bare-looking spaces. If they're any other décor you want to include, find a way to work it into your existing design for a personal touch.